CURRENT EVENTS Presented by Jaymeer:
NEW EVENTS 2018
Current Events:
Jaymeer Tour West Coast & Beyond Dec 2017 - Feb 2018 hitting DIY Spots & More
Jan 16-18th AGE Tradeshow Las Vegas Booths 84/85
El Gato Classic Palm Springs Ca Jan 26-27
Nude Bowl Mission
Glass Vegas Feb 5-7th Westin (next to convention center) Las Vegas Painting Live 5th Outdoor Area
11th Dimension Art Gallery : Art Show Featuring: Jaymeer & King157 Feb 10th During Forcefield Fonts Battle
1st Time showing in Las Vegas featuring all new unreleased canvass from 2017/2018 merch Shirts Hoodies, Ho Scale Train Cars, SilverNozzle Products & Jewelry
@11thdimensionart Instagram
More coming soon or follow my instagram @jaymeericle
Past Events:
XX YEARS BURNSIDE PROJECTS FUNDRAISER/BENEFITs Sept. & Oct. 2010 "Scroll Down for more INFO"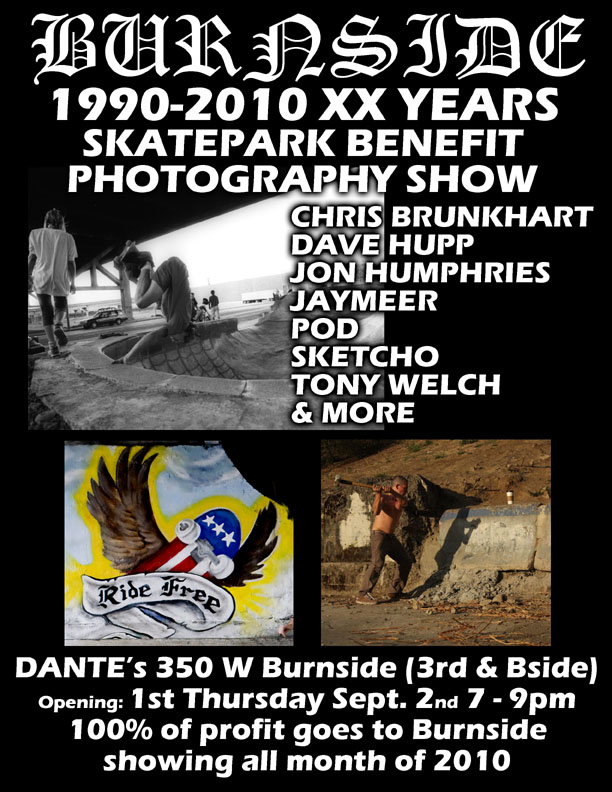 These Events will raise $ needed to have a proper 20 Year Birthday/Anniversary Celebration for the annual Skatepark event on Halloween Oct. 31st 2010.
Please feel free to donate anytime via our paypal button on www.burnsideskatepark.blogspot.com
We have already started raising $ for the XX Years Halloween Anniversary of the Burnside Projects. We are raising funds for renovations, concrete additions, a generator & band equipment/sound, & hopefully a free BBQ & Big Tent + other goodies. We have already raised over $1000, secured a noise permit & Sound equip, but still need your support!

Currently there is a Group Photo Art Show Benefit running until Oct. 6th of the past 20 years of the skatepark.

Our Next benefit is: Oct. 6TH at the same venue. Dante's in Portland
"XX Years of Burnside Projects the Grindhouse" A Video Smash Up. Is on Oct. 6th plus closing art show.
Featuring: News Clips, Coverage, Movie footage, Stills, Tv, Spot Checks, Videos, old unreleased footage, NW local vids. Basically everything Burnside we can slam together from the past 20 years in the next 3 weeks.
We are going to have a donation/cover & a raffle at the video show that will benefit the park.

We are still looking for monetary donations to help with Halloween costs. Please Paypal on Burnsideskatepark.com & let me know you donated, if possible.
We are also looking for product donations for the raffle. If your box arrives late it will automatically go into the next event in Oct. or to Halloween games. We need Ex. Decks, wheels, shoe certificates, bearings, trucks, hoodies, gear, clothes, hats, mags, backpacks, socks, grip, etc..
Help keep the Dream alive by supporting one of the greatest ideas, to have skateparks in every city & everywhere by inspiring skateboarders around the world to get involved & if the system doesn't respond D.I.Y.!
We can feature your logo on the flyer for the Oct. 6th Benefit if you donate & would like. (flyer not released yet!)

If you have any questions please contact jaymeericle@yahoo.com or Chuck W. who's email is at burnsideskatepark@gmail.com
If you would also like to talk with Burnside Board of Directors: Chuck Willus, Sage Bolyard, or Mark (Red) Scott. I would be happy to put you in contact with them..
Here is a list of some of the bands that is growing, all day Halloween Birthday Party. Plus we have some heavy hitters unconfirmed that I'll let you know about later! Chupacabra, Celebrity Graves, Grindline the Band, MY-G, Hub City Hillbillies, Skate Army Band, open jam Q-man & more, Barny & All Star Burnside Crew (Band), & More..
The Annual Birthday Party has been going on every year for many, many, many years. On October 31st skateboarders come in costume & casual attire for the all day event to skateboard the Burnside Projects. Over the years many have made the pilgrimage for Halloween or other times of the year. We listen to music, jam out, have a reunion of sorts, & party, along with some unbelievable heavy skateboard session status, & usually a new surprise feature to skate. After Dark there has known to be lights on occasion, some hang out & others go out on the town to our lush amount of Bars, Clubs, AfterParties etc!! What are you waiting for, get your flight or a ride & come to the Party of the Decade & Century, "Burnside Projects XX Year Anniversary/Birthday" Oct. 31st 2010
Thanks
"Jaymeer" www.jaymeer.com

Direct any questions to Benefit Coordinator: Jaymeer Burnside Skatepark Artist, Supporter & Skateboarder
Benefit Overseer: Chuck Willus
Burnside Board of Directors: Mark Scott (RED), Sage Bolyard, Chuck Willus
We look forward to seeing you at the Benefit or for the XX Year Celebration October 31st 2010!
More Halloween Info will be updated when Bands are confirmed, details.
Also a plan for a Weekend of Food, Bar Hoppin, FUN & Chaos is Planned for Halloween Weekend! XX BURNSIDE PROJECTS
Some PAST EVENTS:
Builders Day Skatopia Rutland, Ohio 2009
Marginal Way Benefit (Art Show, Raffle, Party) Mission West Seattle, Wa 2008
Tour De 206(66) Seattle, Wa 2008
Why Wouldn't You Seattle Premier, Marginal Way Fundraiser 2008